Aphaia Temple and museum
Monument of great archaeological interest
The Temple of Aphaia / Afea is arguably the jewel in the crown of Aegina island. It is a stunning example of ancient architecture set in a beautiful natural forested area with sensational views across the island to the sea.
MORE INFORMATION
Agios Nektarios
Church and monastery
Built for the most recent Greek Orthodox saint – Agios Nektarios – The place is visited by large numbers of people, many of them seeking help from this miracle-working saint, who died in 1920.
MORE INFORMATION
Paleachora
Aegina's version of Mystras
Located on a steep hill adjacent to the church and monastery of Agios Nektarios, it was the islands capital from the 9th century until the early 19th century AD). The setting itself is magnificent, especially in spring.
MORE INFORMATION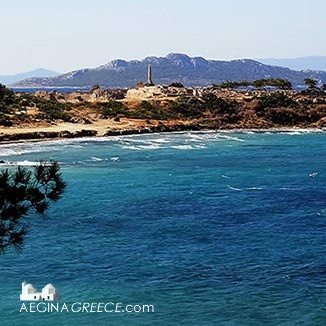 The hill of Kolona
Archeological site with museum
The hill of Kolona, next to port of Aegina town, was inhabited from prehistoric times through the classical period. Extensive walls and foundations have been discovered and excavations are still in process.
MORE INFORMATION
Camera Oscura in Perdika
This building, in Perdika, was part of the Light & Image exibition which took place in may 2003. This Camera Obscura is the first one built in Greece and the only Camera Obscura worldwide with a 360° panorama.
The Tower of Markellos
The pink Tower in Aegina town
Built in 1802 and located some street behind the boulevard of Aegina town. The Tower housed in 1826 Kapodistrias' government until the Governor's Residence, known as the "Palace of Barbayannis" was built. The tower is only open for visitors when there is an exhibition.
Hellenic Wildlife Hospital
Located at the foot of Mount Oros
The Hellenic Wildlife Hospital every year many wild animals from all over Greece. Its' main premises are on the island of Aegina and it is the first wildlife rehabilitation centre founded in Greece.
MORE INFORMATION
The villages of Aegina island
Visit the fishing, inland and mountain villages
Almost all the on the island villages are inhabited and connected by a concrete road and easily accessible by car or motor bike. Each village on the island has its own character and beauty.
MORE INFORMATION
Monumentual buildings
The hertitage of Kapodistrias in Aegina town
During the short period of time that Kapodistrias lived in Aegina as first governor of Greece many important public buildings were renovated, (or began to be) built which add to the special features of the present town).
MORE INFORMATION
The House of Rodakis
A perishing monument in Mesagros on Aegina
The House of Rodakis in Mesagros is a folkore building with peculiar features and of excellent aesthetics. It was built in 1880 by Alexandros Rodakis. Discussions about preservation of the house are still going on.
MORE INFORMATION
The house of Kazantzakis
Internationally-acclaimed author Nikos Kazantzakis
Kazantzakis (1883 – 1957) lived on the island of Aegina for varying periods of time.The house is located on Aegina's northwest tip. It is a private house, visible from the road but it is NOT open to visitors.
MORE INFORMATION
The pottery in Mesagros
Traditional workshop
Aegina has an old tradition in pottery, evident from rich archeological findings. Nowadays, there are a few traditional craftsmen left. One of them, the pottery of Nektarios Garis, is located in Mesagros.
MORE INFORMATION