Welcome to Aegina island
You've reached AeginaGreece.com, Aegina island's most visited tourist travel guide. Aegina (Aigina, Egina, Egine, Ägina) is located 26 km / 16 miles south of Athens. It's part of the Saronic islands group and can easily be reached within 40 minutes from Piraeus. I am excited to introduce you to the magic of Aegina!
Learn why Aegina is the perfect vacation destination, why a day or weekend trip to experience some Greek island life is easy to combine with your Athens City trip and learn why Aegina is a fantastic place to live for those who want to be away from it all! Discover Aegina, the island that is still Greek and not spoiled by mass tourism. Enjoy your journey!
Aegina, my home
My name is Lizzy and I am the creator of AeginaGreece.com. I first visited the island in 1993 and returned several times before I followed my heart and relocated myself with my dog and cat from the Netherlands to the island where I awakened, healed and started to live my soul's passion.
Last summer, my life story got published in a best selling compilation book "Ignite your Female Leadership". You will find more information about the book at www.lizzy.energy.
I am a visionary, connector, creator, author and spiritual director. I love to inspire and energize people, take pictures, make videos, decorate, be artful & create atmosphere on- and offline. I am a channel, live intuitively and believe in personal & natural healing. Since 2003, I have been sharing my love for this little Greek paradise through AeginaGreece.com with millions.
Currently, I am helping people to gain clarity about personal and health issues as a spiritual director. Since January, I am running The Beachhouse apartments in Vagia and I help managing Villa Oneiro Glico in Agia Marina, the vacation rental villa of my partner. Both accommodations are excellent holiday & retreat beach locations boosting amazing sea view.
From March onwards, I will be hosting my coaching sessions and introductions on "How to use a pendulum" at both locations. Contact me for more information at connect@lizzy.energy or connect with me on facebook.
Lizzy
Come and fly over Aegina island
How to get to Aegina island
Only 40 minutes from Piraeus
The airport of Athens is the closest airport to Piraeus from where the boats leave to Aegina island. Bus X96 will take you between 60 and 90 minutes from the airport to the Piraeus port. Aegina is located at only a 40 minute Flying Dolphin distance from Piraeus. The regular ferry takes around 75 minutes.
HOW TO GET TO THE ISLAND
FERRY TIMETABLES
BOAT INFORMATION
AIRPORT TAXI RESERVATION
The beaches of Aegina
Aegina has a big variety of beaches, you can find them all around the island. There are sandy beaches with and without beach bars, sunbeds and umbrellas, beaches with shallow water and beach sites where you can jump in deep waters. Beaches with sunbeds operate "normally" from around 15 May until 15 September. Don't miss Moni, the little inhabited island which is located opposite Perdika and that can be reached by boat.
What to see & do
Aegina is a place of rich history. The Temple of Aphaia is arguably the jewel in the crown of Aegina island, wander around Paleachora, visit the archeological site of Kolona. Spend your Aegina holidays swimming, enjoying the beaches, sightseeing, discovering the island, sailing, walking, cycling, wining & dining.  Are you looking for a guide? Visit neighbouring islands or combine Aegina with a day trip to Athens.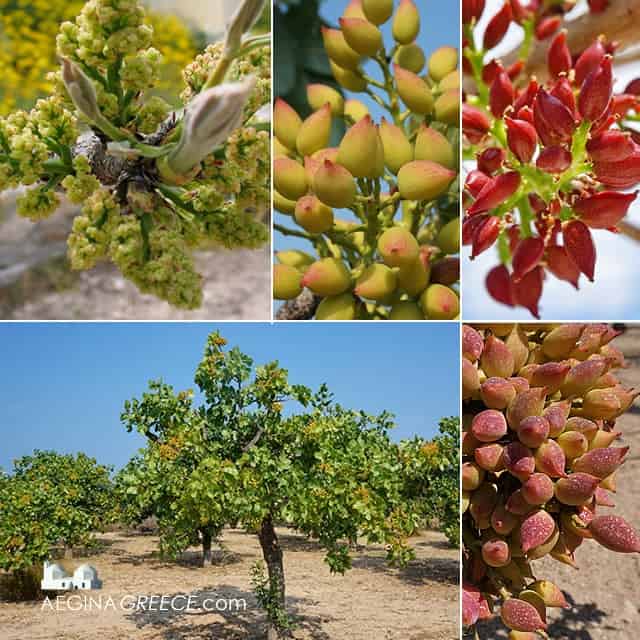 12th Aegina Fistiki Festival | ? 2020
The Aegina Fistiki Fest
Aegina is the island of the pistachio nuts. They are called in Greek: "Fistikia". The harvest of the pistachios is celebrated every year in September with "The Aegina Fistiki Festival". The Aegina Fistiki Fest is a a 4 days festival in September with lots of food, music, dance, theatre & art. The dates for the 12th festival will be announced at the end of January.
The island of Agios Nektarios
One of the most visited sites on Aegina is the church of Agios Nektarios. Agios Nektarios of Aegina (1846-1920), is one of the most widely known Greek Orthodox Saints. He was officially recognized as a saint by the Ecumenical Patriarchate of Constantinople in 1961. Each month, thousands of people visit the tomb of Agios Nektarios, to pray to him, or ask for his blessings, which always seem to be answered. His memory is celebrated by the Church on his nameday the 9th November.