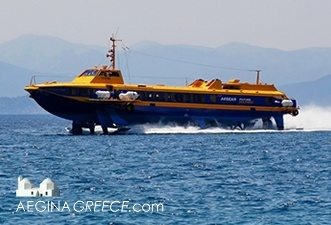 Aegean Flying Dolphins
route: Piraeus – Aegina town –  Agistri
trip Piraeus – Aegina: 40 minutes
trip Piraeus – Aegina – Agistri: 55 minutes
trip Aegina – Agistri (Milos): 10 minutes
Piraeus – Aegina
single ticket adult: € 14,00
Piraeus – Agistri
single ticket adult: € 14,50
Aegina – Agistri
single ticket adult: € 6,00
ticket kid (6-10 years): 50%
general information: (+30) 210 4121654
customer service: (+30) 210 4221766
telephone Aegina: (+30) 22970 25800
telephone Agistri: (+30) 22970 91221
e-mail: info@aegeanflyingdolphins.gr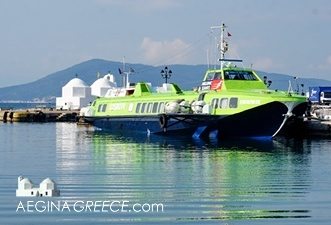 Blue Star Ferries
Hellenic Seaways
route: Piraeus – Aegina town –  Agistri
trip Piraeus – Aegina: 40 minutes
trip Piraeus – Aegina – Agistri: 55 minutes
trip Aegina – Agistri (Milos): 10 minutes
single ticket adult (Piraeus-Aegina): € 14,00
single ticket adult (Aegina-Piraeus: € 14,00
single ticket kid: € 07,00
single ticket adult (Aegina-Agistri): € 06,00
telephone Aegina: (+30) 22970 22945
telephone Piraeus: (+30) 210 4190200
telephone Agistri: (+30) 22970 91171
e-mail: customerservice@hsw.gr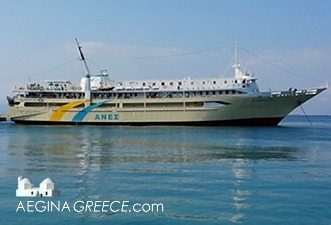 Agios Nektarios
Anes Lines
route: Piraeus – Aegina
trip: 75 minutes
single ticket adult: € 08,00
return ticket adult: € 13,00
single ticket kid: € 04,00
single ticket car: € 20,00
return ticket car: € 32,00
telephone Aegina: (+30) 22970 25625
telephone Piraeus: (+30) 210 4225625
Saronic Ferries
Achaeos, Apollon Hellas, Poseidon Hellas & Phivos
route: Piraeus – Aegina – Agistri
trip Piraeus – Aegina: 70 minutes
single ticket adult: € 08,00
single ticket kid (5-10): € 04,00
single ticket car: € 25,00
trip Aegina – Agistri: 20 minutes
single ticket adult: € 02,80
single ticket car: € 08,20
telephone Aegina: (+30) 22970 22945
telephone Piraeus: (+30) 210 4117341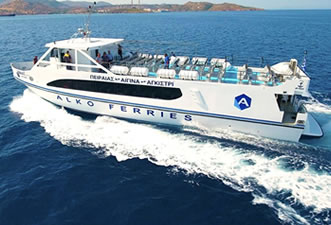 Sebeco II
Alko Ferries
route: Piraeus – Aegina – Agistri
Trip Piraeus – Aegina: 50 minutes
single ticket adult: € 09,50
trip Aegina – Agistri (Skala): 15 minutes
single ticket adult: € 04,00
children 5-10 years old: 50%
telephone Aegina: (+30) 22970 25686
telephone Agistri: (+30) 22970 91767
telephone Piraeus: (+30) 210 412 6926
email: info@alkoferries.gr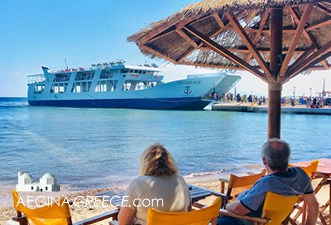 Mekratis
Saronic Ferries
route: Piraeus – Souvala
trip Piraeus – Souvala: 60 minutes
single ticket adult: € 07,50
return ticket adult: € 13,00
single ticket car: € 18,00
return ticket car: € 32,00
single ticket small motor bike: € 4,50
single ticket big motor bike: € 6,00
telephone Piraeus: (+30) 210 4117341
telephone Souvala: (+30) 22970 52210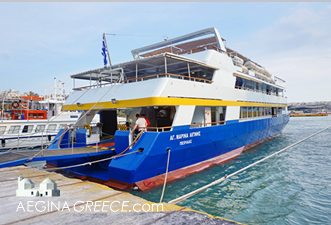 Agia Marina – Aeginis
Anes Lines
route:
Piraeus – Agia Marina – Hydra (01/07/2019 – 08/09/2019)
only operating in the summer months
no cars
motorbikes allowed
duration trip:
Piraeus – Agia Marina: 60 minutes
Piraeus – Hydra: 3.5 hours
Agia Marina – Hydra: 2,10 hours
single ticket motor cycle (over 250 cc) Piraeus – Agia Marina: € 5,00
single ticket motor cycle (over 250 cc) Agia Marina – Hydra: € 6,00
single ticket adult Piraeus – Agia Marina: € 13,00
single ticket adult Piraeus – Hydra: € 19,50
single ticket adult Agia Marina – Hydra: € 15,00
children 5-10 years old: 50% discount
children 0-4 years old: free of charge
telephone Piraeus: (+30) 210 4226596
telephone Ag. Marina: (+30) 22970 32234
telephone Hydra: (+30) 22980 29655
email Piraeus & Agia Marina: porthmiaki1ne@gmail.com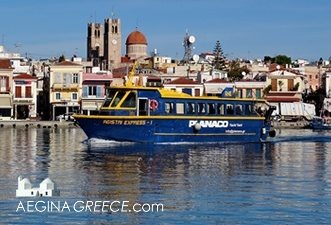 Agistri Express
route: Aegina – Agistri (Skala & Milos)
trip: 15 minutes
single ticket adult: € 6,00
single ticket kid: € 3
telephone: (+30) 6934 347 867 (Marinos)
Water taxi
route: Aegina – Agistri
route: Aegina – Piraeus
route: trips on demand
Takis water taxi: (+30) 6972 229720
Jamaica taxi: (+30) 6944 535659
Christos Logothetis: (+30) 6974 976900 & info@hotelmilos.gr
In case of strikes the water taxi's most likely do travel. Average cost of single ticket (Piraeus Drapetsona-Aegina town port) is around € 35 in daytime, it all depends on the amount of people in the taxi.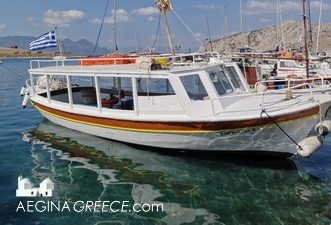 Local boat owners
route: Perdika – Moni island
trip Perdika – Moni: 10 minutes
return ticket kid: FREE
return ticket adult: € 5
There are no timetables available. You can find the small ferries at the quay in Perdika. They are travelling the whole day up an down to Moni from around 09:00 in in the morning until 20:00 at night in the summer season. Outside the busy months you can make arrangements to take you and bring you back again at an agreed time. On the way up you have to pay your return ticket.