Restaurants, cafés and bars on Aegina
Welcome to restaurant Thymari in Agia Marina. It is a well known place in the area as they have been running the restaurant for 28 years. Thymari can be found on the main street, in a cool and friendly environment and is open from May until October.
Aerides is located at the Beach in Vagia at the north side of the island. They are open all day for breakfast, lunch and diner. Owner Aris Basdekis and cook Petros Drossos (former restaurant Ippocampus) are welcoming you to this populair beach restaurant.
La Palma, named after the big Palm tree in their garden, is located on the sandy beach of Marathonas A on the west side on Aegina island. Their sunbeds and umbrellas in front on the beach are free of use for La Palma guests.
Authentic Italian cuisine, Mediterranean tradition, respect for pure ingredients and local products come together in unique and delicious offerings. Located on the Square in Kipseli.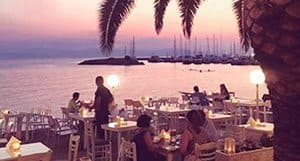 Located at the boulevard next to hotel Brown and the municipal stadium in Aegina town. Enjoy your Greek Traditional Dishes at the beach with magnificent view or inside in the air-conditioned restaurant. Open summer & winter.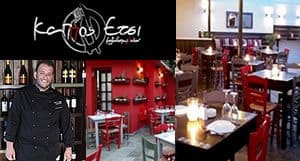 At restaurant Kappos Etsi of chef Dimitris Kappos you will be able to taste quality traditional Greek cuisine combined with artistic culinary innovation.
Sotos beach lounge bar is located right next to the Apollo Hotel, tucked away among the rocks along the shore in Agia Marina. One of the nicest places to swim and relax on the island, especially for those swimmers who prefer deep waters.
Akrogiali, the cafe & ouzeri of Pavlos and his wife Lia, is on the sandy beach of Agia Marina and right next to the sea. This cosy place is open from 9 in the morning until 1 at night. They are serving delicious traditional Greek dishes "meze" & snacks with local wines at very good prices.
Milokidono serves and sells organic and traditional products, authentic cheeses from the Greek islands and other carefully selected from France. The place for a coffee, glass of wine or a meze during your shopping or stroll through Aegina town.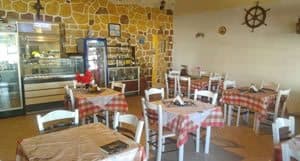 The number one taverna on TripAdvisor in Souvala. In summer they have also tables outsde at the waterfront. A typical Greek taverna with grilled food and Greek home cooking.