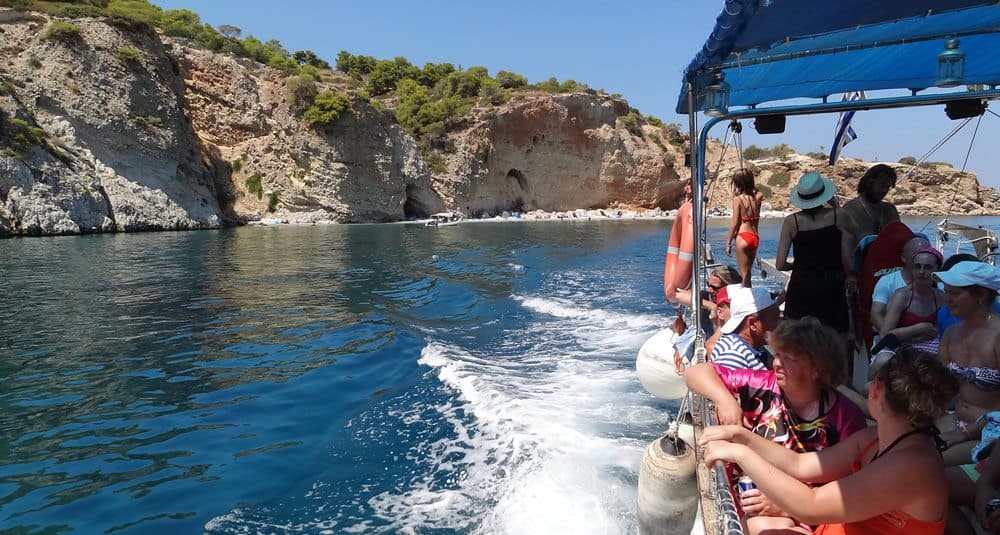 Boat Trips & Cruises around Aegina, Moni, Agistri, Aponisos, Poros & Hydra. Join Christos on one of his organized boat excursions, or hire his boat with your friends for the trip that you desire. Enjoy the sun & sea of Aegina Island, come sail to beautiful places to swim and snorkle in the waters around Aegina island and its neighbouring islands!
Snorkeling
The cruise will provide you with masks and snorkles, so you are able to enjoy the beauty of the under water world. You will be able to collect sea urcheons, open them and eat them. You can swim in caves etc.
A One Day Cruise can look like this:
Start from Aegina at about 10:00 in the morning, cruising along the coast line until the small fishing village of Perdika. Stop for your first swim and snorkeling at the island of Moni. Except for nice swimming, you can also see many deer, peacocks and "Krikri" goats on the uninhabited island of Moni.
After cruising around Moni island, we will visit the village of Skala, on Agistri island where you will have some time to walk to see the village or swim. Then we will pass by the "famous" nudist beach of Agistri and we will be swimming in some caves. Enjoy the snorkeling, sometimes you can even see seals! The cruise will head for Aponissos island and Dorousa island - which are located behind Agistri.
Depending on the time we can walk up to the top of Dorousa to see the fantastic view towards the Peloponnese, you can use your free time to have a meal at a taverna at the seafront or we can organize a full BBQ meal for you (with salad, 4 kinds of meat, wine, desert) while you are enjoying your swimming at the most crystal clear waters of the Saronic.
On the way back we will pass by the village of Milos and maybe there could be some time for one last swim and snorkeling at Metopi island where sometimes we see turtles.
You will be back around 17:00 in Aegina.
The cruise is licensed to take up to 30 people around the Saronic gulf.
18010
Aegina town, Aegina island