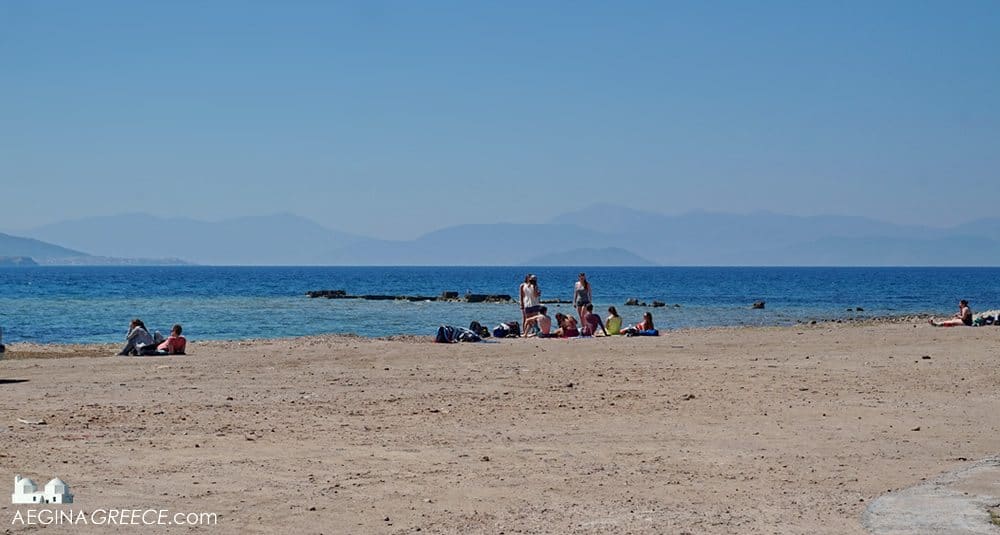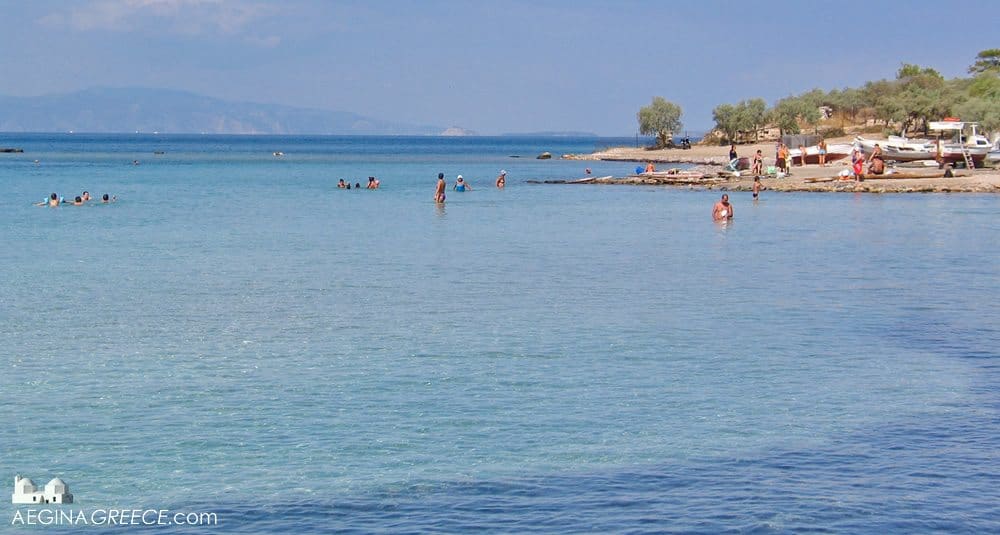 The Avra beach is the closest beach to the port of Aegina town. It is located in front of the archeological site of Kolona and at walking distance from the ferries. It used the be an organised beach with sunbeds, umbrellas and a cafetaria/ bar right on the sand. The water is shallow and safe for little kids. Lots of accommodation and tavernas within walking distance.
The beach site
From the beach, you can watch the ferries, Flying Dolphins, sailing yachts, luxury motor yachts and the picturesque small fishingboats come and go to the island. On the horizon you see the neighbouring island of Agistri, Methana and the Peloponnese, in the back. The sunsets are spectacular. On the beach side you will find a small boat yard, where traditional wooden fishing boats are built and maintained, using traditional techniques. A children's playground is located opposite the beach.
Historical ground
The Avra beach is a location full of history. In the sea in front of Avra, the remains of the ancients ports of Aegina are still visible. There are finds (architecture & ceramics) from the archelogical hill of Kolona which date from the Neolithic Period. The standing column (Kolona) is all that has remained of the temple of Apollo from the Classical Period. When you enter the archeological site (which has its entrance next to the beach) you wonder yourself back in time. For years, the inhabitants of Aegina used to live there. The views from the site towards Aegina town are lovely. The site has its own museum that houses various archaeological finds from the island. The site is open daily (except monday) from 8:30 - 15:00, all year round.
Aegina Music Festival
In August, the Avra beach is the stage of the Aegina Music Festival. During the Aegina International Music Festival both emerging and established Greek and international musicians get together and explore some of the most beautiful pieces of music ever written for small music ensembles.
More beaches on Aegina island
Akrogiali | Agia Marina beach
Lizzy
2016-06-15T13:38:29+00:00
18010
Aegina town, Aegina island