Aegina island most complete tourist travel guide. We introduce you to the magic of Aigina, Egina, Egine, Ägina island in the Saronic Gulf, Greece. Learn why Aegina is the perfect holiday destination and a fantastic place to live! Discover Aegina, the Saronic island that is still Greek and not spoiled by mass tourism. Aegina can be reached within 40 minutes from Piraeus. Enjoy!
The beaches of Aegina island
Aegina has a big variety of beaches, you can find them all around the island. There are sandy beaches with and without beach bars, sunbeds and umbrellas, beaches with shallow water and beach sites where you can jump in deep waters. Beaches with sunbeds operate from around 1/2 May until 1/2 September. Don't miss Moni, the little inhabited island which is located opposite Perdika and that can be reached by boat.
What to see & do
Aegina is a place of rich history. The Temple of Aphaia is arguably the jewel in the crown of Aegina island, wander around Paleachora, visit the archeological site of Kolona. Spend your Aegina holidays swimming, enjoying the beaches, sightseeing, discovering the island, sailing, walking, cycling, wining & dining. Visit neighbouring islands or combine Aegina with a day trip to Athens.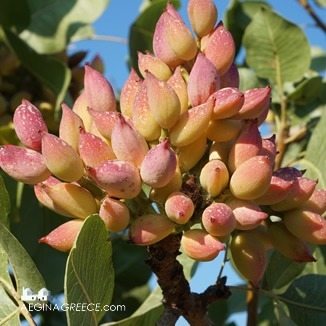 Aegina Fistiki Festival
The Aegina Fistiki Fest
Aegina is the island of the pistachio nuts. They are called in Greek: "Fistikia". The harvest of the pistachios is celebrated every year in September with "The Aegina Fistiki Festival". The Aegina Fistiki Fest is a a 4 days festival in September with lots of food, music, dance, theatre & art. The dates for 2017 are: Thursday 14th until Sunday 17th of September.
The island of Agios Nektarios
One of the most visited sites on Aegina is the church of Agios Nektarios. Agios Nektarios of Aegina (1846-1920), is one of the most widely known Greek Orthodox Saints. He was officially recognized as a saint by the Ecumenical Patriarchate of Constantinople in 1961. Each month, thousands of people visit the tomb of Agios Nektarios, to pray to him, or ask for his blessings, which always seem to be answered. His memory is celebrated by the Church on his nameday the 9th November.