Aeginitissa one the trendiest beach spots on Aegina Island. It's the beach where young Aeginitissi & Athenians hang out in the summer weekends! The beach is located in the beautiful bay of Aiginitissa with it's huge Eucalyptus trees and incredible sunsets. The seawater is crystal clear and turquoise blue.
Beach & cocktail bar
The nicely styled Aeginitissa lounge beach & cocktail bar of Stelios and Ria Pallis is serving tasty food and very delicious cocktails. Try their unique Fistiki Moquito! On the Aeginitissa menu you will find a variety of tasty salads, mezedes, pasta's and sandwitches. The food is served as well on the beach as on the terrace of the beach bar.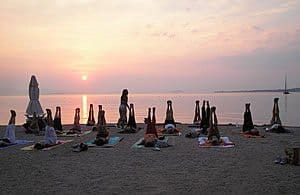 Yoga at the beach
At Aeginitissa you can rent sunbeds and umbrella's but you can also play a game of beach volley, or beach tennis in the specially created area. Or paddle away in their kayak. Inside they have a ping pong table and table football. In the summer months there will be Yoga lessons on the Aeginitissa beach at sunset time.
Music & Live concerts
During the weekends, DJ's are playing music and regularly parties & live concerts are organised. Various artists performed live at Aeginitissa: Julian Marley, Toni Sfinos, Maraveyas Ilegál and many others.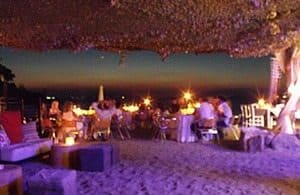 Your party at Aeginitissa?
When you are looking for a location that can host your party, Aeginitissa is a very good choice. Ria and Stelios will make your party unforgettable!
Contact
Aeginitissa beach & bar

Ria & Stelios Pallis

18010 Aeginitissa

Aegina

Greece

Mobile: (+30) 6944 651699
E-mail: [email protected]
Location
More beaches on Aegina island: